SupaTrophy

Hybrid Training




Training to build you, not break you.
WHAT DOES THE HYBRID PROGRAM LOOK LIKE?
Hybrid Program combines the best aspects of a functional bodybuilding program with the common foundations of a CrossFit Program, creating a unique experience.
Using a percentage of your one rep max, the workouts are easily scalable and allow greater control over your intensity and goals.
WHO IS HYBRID PROGRAM FOR?
Perfect for the beginner, bodybuilder or multi-sport athlete. Whether your goal is weight-loss, muscle gain or to increase performance, this program will help you achieve your goals.

WHAT IS INCLUDED IN A WORKOUT?
1. Warm Up: it's important to loosen up and increase the range of motion to avoid injury and increase your longevity in training. A warm-up is included each day specific to the muscle groups being stimulated.
2. Traditional: focusing compound movements, along with stimulating multiple muscle groups each day.
3. Metcon: constantly varied functional movements performed at high intensity. This methodology has been proven to increase fat burning, toning and building explosiveness.
4. Cool Down: similar to the warm up, it is important to cool down correctly and stretch out to reduce the lactic acid build-up and onset of muscle soreness; meaning you'll be able to hit it hard again tomorrow!

HOW LONG IS A WORKOUT?
Usually between 55 to 75 minutes including warm-up and cool down.

HOW MANY DAYS OF PROGRAMMING ARE THERE A WEEK?
Hybrid Program follows the a 5 days on 2 days off approach. Active recovery includes stretching and mobility with suggestions such as hiking or chilled cycling.
HOW DO I GET MY TRAINING PROGRAM?
The SupaTrophy Programs are digital products delivered to you through our SupaTrophy Training App. You will need to download the SupaTrophy Training App to your smartphone. This means there is no physical product sent, keeping the costs down on manufacturing, shipping and handling.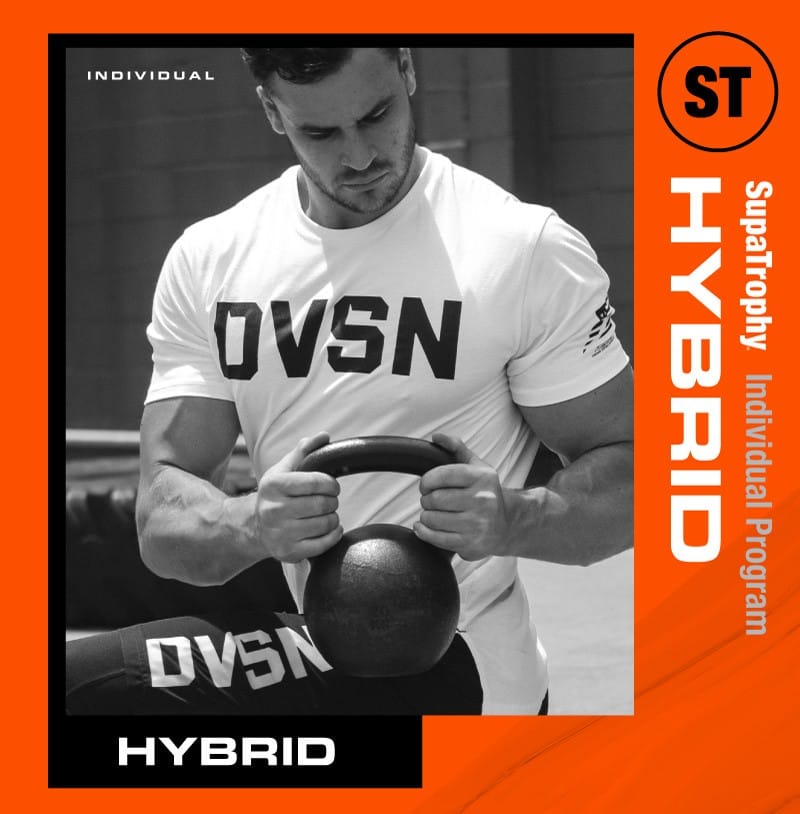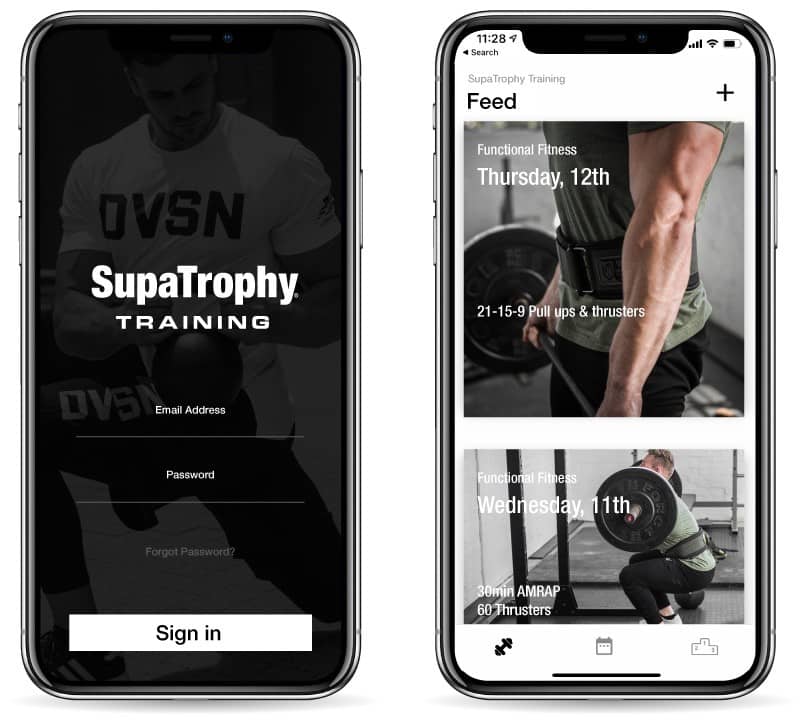 Mobile app access
Progress Tracking
Workouts delivered daily
Start with a

5 day free trial

of this program.